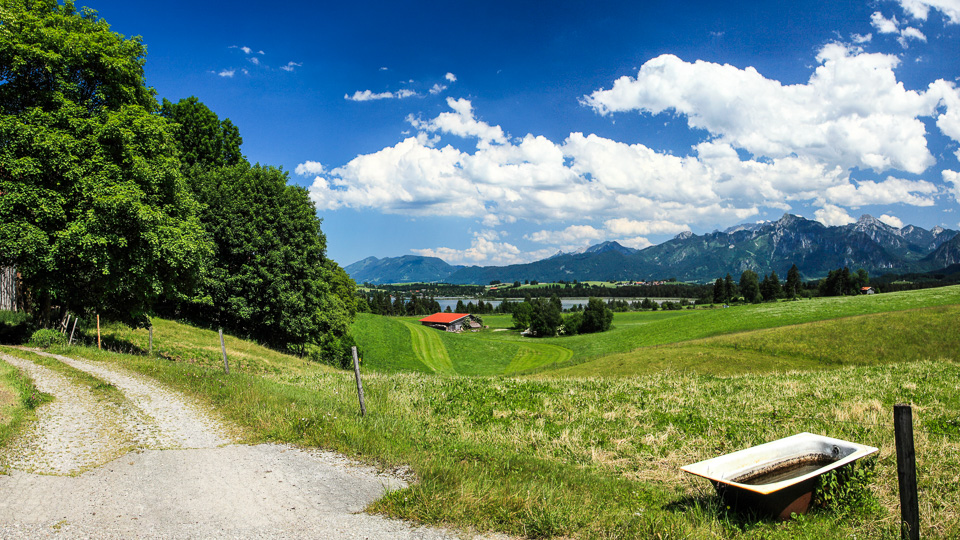 The Great Bike Holiday in Bavaria
Alpine peaks, deep blue lakes and fairy tale castles
 Constance – Lindau – Bad Tölz – Chiemsee – Königssee – Salzburg
Lake Constance - Königssee cycle route
Medival Constance, castle Neuschwanstein, Chiemsee, pilgramage church St. Bartholomä
Daily routes ●●●●○
Altitude profile ●●●●○
Our bike holiday from Lake Constance to Lake Königssee is a real all-round experience. Countless Alpine peaks, unforgettable landscapes, deep blue lakes, moors, dense forests and fairy tale castles are waiting to be discovered by you. Join us on a 550 kilometre long journey to the most beautiful spots in Bavaria, around Lake Constance and the Salzburger Land region. You will need a good level of physical fitness for this tour – the Alpine foothills are well known for their constant up and down. Prepare yourself for steep inclines and steep descents. This Bavaria bike holiday from Lake Constance to Lake Königssee starts in Constance. Starting in Lindau, you will get to know the Allgäu region. Near Füssen you will explore the Königswinkel – the king's nook - home to the castles Neuschwanstein and Hohenschwangau. Countless lakes, such as the Tegernsee or the Chiemsee are not only perfect for a refreshing dip in the water, but also for a relaxing boat trip. Towards the end of your Bavaria bike holiday you will get to know the Berchtesgadener Land region and Lake Königssee. The crowning glory of this bike holiday from Lake Constance to Lake Königssee is Salzburg – the city of Mozart and the world-famous festival. 
Season times and prices 2022
Arrival on Sundays from 17.04.2022 to 09.10.2022
Bookable dates are shown in the booking form. The season is dictated by the arrival date.
17.04. - 24.04.
26.09. - 09.10.

25.04. - 29.05.
05.09. - 25.09.

Single room supplement 379 €
Services
13 nights incl. breakfast, national 3* level
Luggage transport from hotel to hotel to Salzburg, no limit on the number of pieces, max. 20 kg / piece
Boat trip Constance-Staad – Meersburg incl. bike
GPS tracks available on request
Cycle route description with maps (1 x per room)
7 day Service Hotline
Not included is the City or visitor's tax, if payable.
For our younger cyclists
Due to the altitude profile we don't recommend this tour for children.