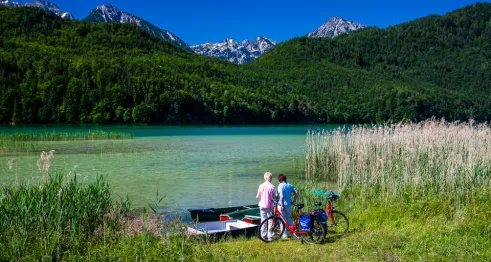 Active Bike Tour through the Allgäu Region
The toll of bells, luscious green fields and lofty mountains
 Kressbronn – Füssen – Kempten – Kressbronn
Oberstaufen, Lech Falls in Füssen, Kempten 
Neuschwanstein Castle
Daily routes ●●●●●
Altitude profile ●●●●○
Experience your holiday a little differently on our athletic Allgäu tour by bike. At an average of 80 km per day, you cycle through the hilly alpine foothills in the Allgäu region. Light to more intense hills and slopes alternative along the entire route. Being in good physical condition is essential. Our athletic Allgäu tour by bike is great for experienced cyclists who are in good shape. 
Moments of relaxation are also to be had! Your start and final destination is on Lake Constance. The Allgäu region awaits you with diverse countryside and cultural highlights. Tackle the mountainous landscape all round Oberstaufen, visit Neuschwanstein Castle close to Füssen and get to know Germany's oldest town - Kempten - . On our athletic Allgäu tour by bike, you will also visit an alpine dairy or two. Cheese production is just as much part of the Allgäu region as green fields, high mountains and Allgäu cows.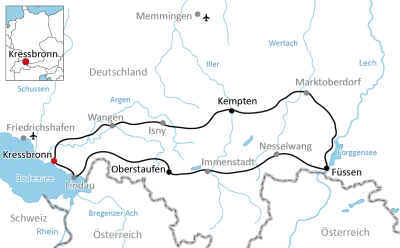 Booking Code
BY-KK6-sp
Start / Destination
Kressbronn
Duration
7 days / 6 nights
Length
approx. 310 km
Daily routes ●●●●●
between 65 and 100 km, Ø 80 km
Altitude profile ●●●●○
Day 1: Individual arrival in Kressbronn
Your athletic bike tour Allgäu starts on Lake Constance. You stay overnight in Kressbronn. Surrounded by orchards and vineyards, this town nestled into the picturesque landscape of the northern banks of Lake Constance. After checking in to your hotel why not go on a test ride on your bike. We can recommend a trip to nearby Friedrichshafen. A visit to the Zeppelin museum appeals not just to technology enthusiasts. On a walk along the promenade, enjoy views of the Alps. Save some energy for the coming sections by bike. They are challenging.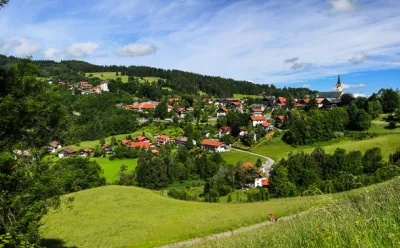 Day 2: Kressbronn – Oberstaufen, approx. 65 km
After a few easy-going kilometres along Lake Constance, you soon reach Lindau. A trip to Lindau's historic quarter on the island can be recommended. Mediterranean flair all-inclusive. The Lake Constance-Königssee cycle path starts in Lindau and takes you to the Allgäu region. Get ready for tackling quite some metres in altitude. Lush green fields and extensive forests are your constant companions. You stay overnight in Oberstaufen - Germany's sole Schroth cure health spa. This natural healing method is used to detox the body. The excellent quality of the air here also has very positive health effects. Go and see for yourself!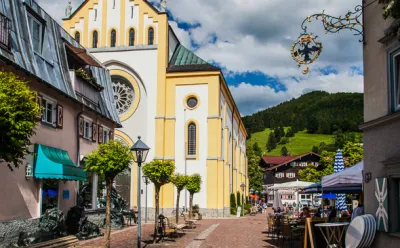 Day 3: Stay in Oberstaufen 
Today you can look forward to a relaxing time in Oberstaufen. With the Oberstaufen Card (included) you are spoiled for choice. Enjoy a trip up to any of the nearby mountain peaks on the mountain railway. From Oberstaufen's nearest mountain, the Hochgrat, you have a unique panoramic view of the Allgäu region. Explore the peak on any one of the local footpaths. Or what about a day in the Acquaria aqua complex, a visit to a high rope course or try out a Schroth health spa. Fortify yourself with a hearty meal in the evening of lovely dumplings and beer from one of the small breweries around Oberstaufen. Add to that a bloodroot schnaps?! Cheers!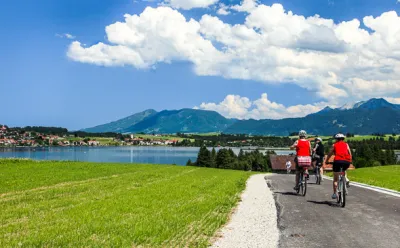 Day 4: Oberstaufen – Nesselwang – Füssen, approx. 75 km
Today's section begins without any hills. You cross the valley of the Constance Ach to the Großer Alpsee Lake. The hills start just after Immenstadt. You cycle along the foot of Grünten ridge and, at Oy-Mittelberg, reach the highest point along our athletic bike tour Allgäu. Unique views are to be had when you reach today's destination of Füssen. Situated on the Lech, this climate resort has medieval winding streets and very charming buildings in the Bavarian Baroque style. Not far from Füssen is the King's Nook. Neuschwanstein Castle and Hohenschwangau are definitely worthy of a visit.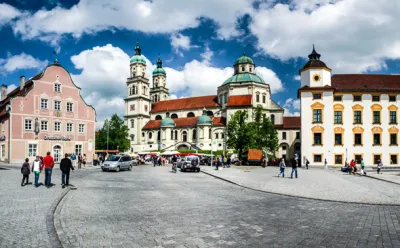 Day 5: Füssen – Kempten, approx. 70 km 
On your penultimate section, you cycle first along Germany's biggest reservoir, Forggensee, to Marktoberdorf. By the time you reach today's destination, Kempten, you will have tackled quite a few hills. But it's worth the effort. All an economic and cultural hub in the Allgäu region, this town, with its 2000-year old history awaits you with a whole range of sights to enjoy. Visit the reproductions of the Roman town of Cambodunum and wander over St. Mang-Platz. In the magnificent rooms of the residence, you will become acquainted with Kempten's more pompous side.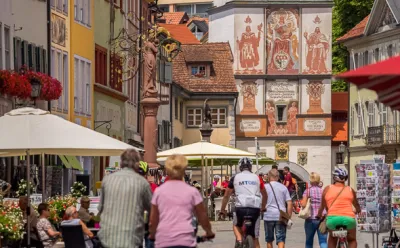 Day 6: Kempten – Wangen – Kressbronn, approx. 100 km
Your last day in the saddle is mostly along level ground. A few kilometres out of Kempten, on our bike tour Allgäu, you'll be cycling almost entirely downhill. It's worth taking a break in Isny. Explore the charming, historic centre before following the cycle path to Wangen. The town, with its colourful houses and a large number of amusing fountains, will appeal to you with its convivial atmosphere. Your route now takes you back to Lake Constance at a leisurely pace. To bring your tour to a pleasant end, try one Lake Constance's sun-spoiled wines.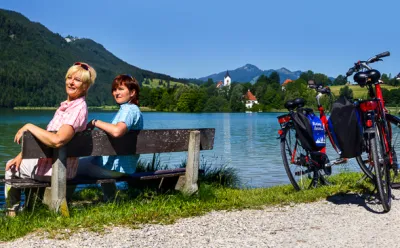 Day 7: Individual departure or extension of stay
After breakfast, your bike tour Allgäu comes to an end. We would be happy to extend your stay if you wish.