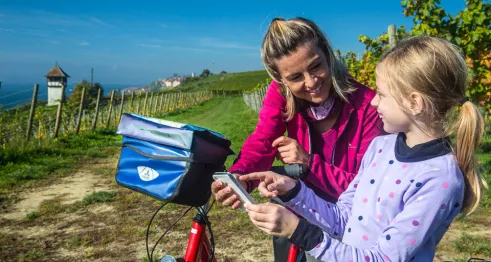 Family Cycling at Lake Constance
Pack your swimming gear for the bike tour with short stages
 Constance – Überlingen – Friedrichshafen – Lindau – Constance
Included: Lake dwelling Museum Unteruhldingen, Sea Life Constance and boat trip on Lake Constance 
Daily routes ●○○○○
Altitude profile ●○○○○
Family tour!
Your children will remember this Lake Constance holiday for a long time to come: there's so much to explore around Lake Constance! There are the pile dwellings in Unteruhldingen, the Zeppelins in Friedrichshafen or the 6-metre high lion on Lindau's harbour - and these are all things that children and adults alike can enjoy. Your family cycle tour takes you all around Lake Constance along level ground. The tour starts in Constance. Your children will fall into bed proudly - as the short sections are great for children - even young children - to cycle. On the way you and your children can concentrate on cycling; cars are seldom seen. If your children don't want to or can't cycle themselves, the wide cycle paths around Lake Constance are perfect for a holiday with a child trailer or trailgator. As we can take care of transferring your luggage, cycling is easy going.
All you should have with you on your bike is your swimming gear as the lake is never far away. There are lots of places to go in for a refreshing swim along the way in the crystal clear water.
Additional bookable services
| All prices are per person | |
| --- | --- |
| Additional fee single room | |
| Extra night in a double room, B&B, Rorschach / Arbon | |
| Extra night in a double room, B&B, other places | |
| Extra night in a single room, B&B, Rorschach / Arbon | |
| Extra night in a single room, B&B, other places | |
Rental Bikes

Rental Bike
89 €

E-Bike
199 €
Tandem
199 €
Children's and Teenager's bike
45 €
Trailer
45 €
More details about our

Rental Bikes
Insurance
The GuteFahrt protection includes the following benefits (without deductibles): travel cancellation insurance, health assistance, travel assistance, premature termination insurance, rebooking fee protection and luggage insurance.
These insurance policies are available for different durations of travel and can be booked directly via our online booking form. The costs per person are shown accordingly.
Important information: Authoritative for insurance protection are the general terms and conditions of insurance of AGA International S.A. The complete product and consumer information and terms and conditions of insurance can be found at www.allianz-assistance.de/pib or call: +49 89 - 624 24 - 460 to order a copy. We reserve the right to make changes to the benefits and premiums.
Note: the insurance policies are only available in German!