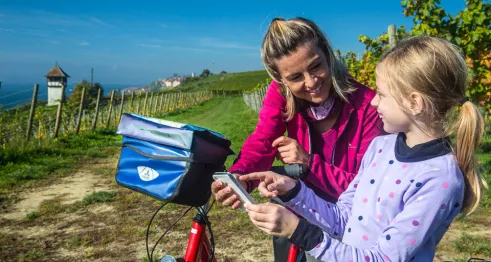 Family Cycling at Lake Constance
Pack your swimming gear for the bike tour with short stages
 Constance – Überlingen – Friedrichshafen – Lindau – Constance
Included: Lake dwelling Museum Unteruhldingen, Sea Life Constance and boat trip on Lake Constance 
Daily routes ●○○○○
Altitude profile ●○○○○
Family tour!
Your children will remember this Lake Constance holiday for a long time to come: there's so much to explore around Lake Constance! There are the pile dwellings in Unteruhldingen, the Zeppelins in Friedrichshafen or the 6-metre high lion on Lindau's harbour - and these are all things that children and adults alike can enjoy. Your family cycle tour takes you all around Lake Constance along level ground. The tour starts in Constance. Your children will fall into bed proudly - as the short sections are great for children - even young children - to cycle. On the way you and your children can concentrate on cycling; cars are seldom seen. If your children don't want to or can't cycle themselves, the wide cycle paths around Lake Constance are perfect for a holiday with a child trailer or trailgator. As we can take care of transferring your luggage, cycling is easy going.
All you should have with you on your bike is your swimming gear as the lake is never far away. There are lots of places to go in for a refreshing swim along the way in the crystal clear water.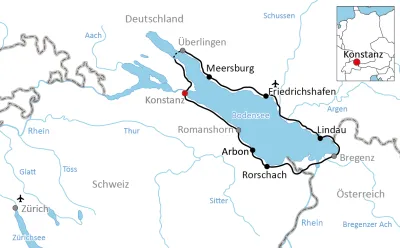 Booking Code
BO-O4
Start / Destination
Constance
Arrival and departure without an overnight stay in Constance.
Duration
5 days / 4 nights
Length
approx. 150 km
Daily routes ●○○○○
between 20 and 40 km, Ø 30 km
Altitude profile ●○○○○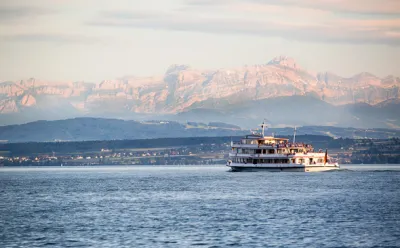 Day 1: Individual arrival in Constance, Constance – Unteruhldingen / Meersburg, approx. 25 / 30 km + boat trip
Once you've arrived in Constance, bring your luggage to our office by 10.00 so that you can get started with your family cycling holiday on Lake Constance right away. If your journey to Constance is longer, we can easily book an extra night for you.
Now on your bike, you start pedalling along the banks of the Überlinger Lake, part of Lake Constance, heading for Wallhausen. If you want take a break to visit the flower island of Mainau: it has a huge playground, which is a true paradise for children. On a boat, you cross the lake to Überlingen. It is said that this is where you can get the best ice-cream on Lake Constance. So after a scoop or two, the next few kilometres are a cinch. In Uhldingen you really should visit the pile dwellings. The lively exhibition about people on the lake ten thousand years ago will appeal to you and your kids.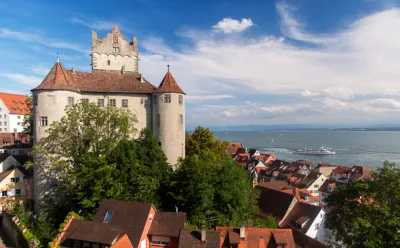 Day 2: Meersburg – Friedrichshafen, approx. 25 / 20 km
The castle in Meersburg is one of the oldest lived-in castles in Germany. It sits majestically, looking over Lake Constance. Have a walk to the terrace of Meersburg New Castle. From here, you have wonderful views of the lake. Can you see the Swiss bank, opposite? That's where your family cycling holiday on Lake Constance will gradually come to an end in a few day. Back on your bike, you cycle along level paths to Friedrichshafen. By the way, in Friedrichshafen, in the Zeppelin museum you'll find a reconstruction of the famous Hindenburg-Zeppelin, accurate down to the very last detail.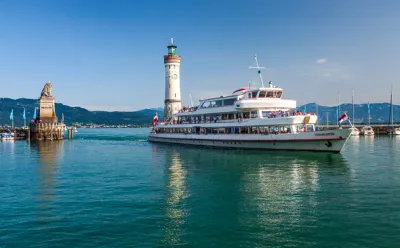 Day 3: Friedrichshafen – Lindau, approx. 30 km
Extensive orchards are on your route to Lindau. And lots of places to stop to go for a swim. While your children are splashing about in the crystal-clear water, take in the lovely alpine panorama. The snow-topped peaks look almost like the rising right out of the water. We can also recommend taking another break in Langenargen: this is where you'll find Germany's oldest suspension bridge. The next section is also an easy cycle. After just 30 km you'll have reached your destination of Lindau quickly and will have enough time to explore this charming island town. Did you know that the harbour is watched over by a 6-metre high lion?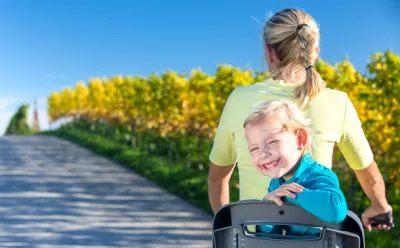 Day 4: Lindau – Rorschach / Arbon, approx. 30 / 40 km
Today you cycle through three countries! From Lindau it's just a short distance over the border to where you'll be cycling through Austria to Bregenz. Here, the lake stage from the annually-held festival is quite a sight to see. And a great thing to do is get the cable car up the Pfänder and admire Lake Constance and the surrounding countryside from the top. Back on your bike, you now explore the Rheindelta. The Alpenrhein flows into the lake from Austria, and leaves the lake at Constance in the form of the river Rhine. After you've crossed the border into Switzerland, your first destination is the village of Altenrhein: it's known particularly for its Hundertwasser market hall, one of the last buildings designed by this colourful artist. In Rorschach you will have reached today's final destination.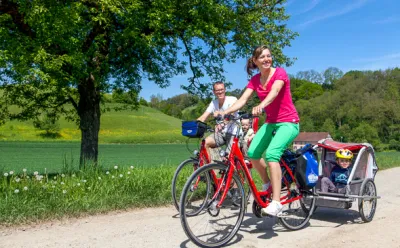 Day 5: Rorschach – Constance, approx. 40 / 30 km and individual departure
The last section along Lake Constance has some very special highlights in store for you and your children. In Romanshorn, once an important outpost of the monastery in St. Gallen, you can wave after the ferry to Friedrichshafen. Can you see the harbour on the other side of the lake? You and especially your children can be very proud of the distance they've already cycled. Along the banks of the lake, you can look forward to another lovely section of your route back to Constance. It's full of lakeside beaches, great to stop for shorter or longer breaks for swimming and ice-creams.
Your family cycling holiday on Lake Constance finally comes to an end. Come to our office, full of your holiday impressions, and pick up your luggage before making your own way home. If you want to spend another night in this, the biggest town on the lake, we are happy to extend your stay.