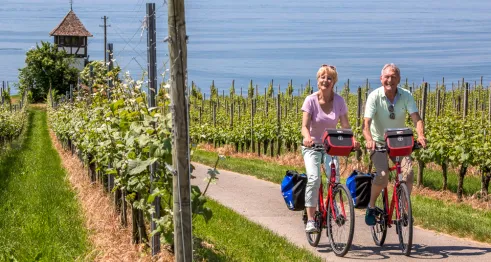 Lake Constance Bike Tour: The Classic Way
"All the way round"
 Constance – Stein am Rhein – Überlingen – Bregenz – Constance
Time for all the sights: flower island of Mainau, medieval town Meersburg, Zeppelin museum Friedrichshafen, Lindau, Bregenz
Daily routes ●●●○○
Altitude profile ●●○○○
On the classic Lake Constance Cycle Path you cycle all the way round the lake in a week: from Constance you can easily explore the three parts of this great lake. First the Lower Lake with the idyllic Höri peninsular and the colourful frescoes in the medieval town of Stein am Rhein. And the Upper Lake awaits you with a wonderful alpine panorama, pretty little vineyards and extensive orchards. Along the cycle path are familiar Lake Constance towns, which all want to tempt you to stop for a break: Meersburg Castle, the Zeppelin museum in Friedrichshafen, the harbour wall complete with lighthouse and lion in Lindau, the lake stage in Bregenz, the rack and pinion train in Rorschach... 
A stroke of luck that the sections along the Lake Constance Cycle Path aren't too long. That gives you plenty of time to discover and explore the familiar and not so familiar sights. 
We offer you our Lake Constance Bike Tour in three different categories:
In the cheapest category B you will stay in good hotels and inns on 2* / 3*-level, which can also be located in the outlying districts.
A little more comfortable and central you will stay in the hotels on 3* / 4*-level of category A.
New we have the category K. The beautiful 4* hotels are mostly located near or directly on the shore of Lake Constance.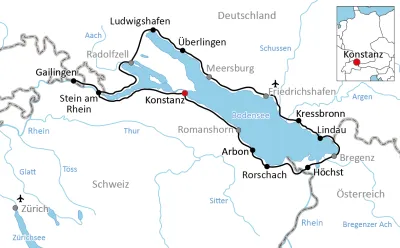 Booking Code
BO-VA6
Start / Destination
Constance / Kreuzlingen
Duration
7 days / 6 nights
Length
approx. 230 / 250 km
Daily routes ●●●○○
between 30 and 60 km, Ø 45 km
Altitude profile ●●○○○
Route condition
Mostly along level ground, slightly hilly on the first three days, on cycle paths that take you either directly next to the lake or along waterside roads.
Parking information
Fenced parking at our office, cost: 45 € / booked holiday, can be booked online, must be booked and paid in advance.
Free parking on public roads.
Tour operated by
Radweg-Reisen
Mobility note
This holiday is suitable to only a limited extent for people with restricted mobility.
Please contact us if you have individual requirements.