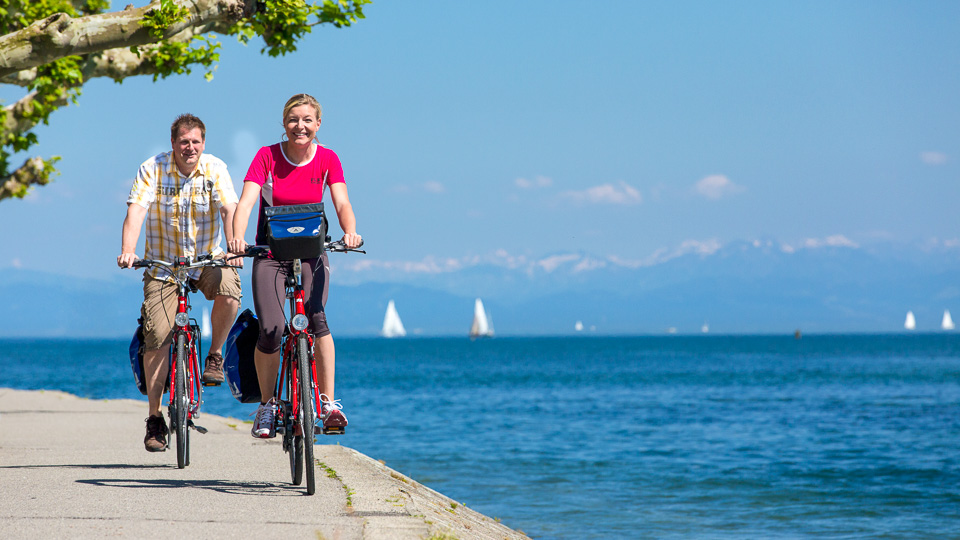 The Lake Constance round trip
The popular Lake Constance Bike Tour!
 Constance – Überlingen – Lindau – Schaffhausen – Constance
UNESCO World Heritage Site Reichenau Island, Friedrichshafen, Lindau, Stein am Rhein
Boat trips on Lake Constance and to the Rhine Falls included!
Daily routes ●●●○○
Altitude profile ●●○○○
Bestseller!
On this Lake Constance round trip you crown your route around the lake with a trip to the Rhine Falls - one of Europe's largest waterfalls. When you're on your bike cycling through Germany, Austria and Switzerland, you are constantly accompanied by simply stunning scenery: The snow-peaked Alps appear to be literally rising out of the crystal clear water of the lake, which is also dotted with brightly coloured sailing boats. Out and about, you have enough time to discover the larger and smaller sights at your own pace: medieval picture-book towns such as Constance or Stein am Rhein, Überlingen with its Mediterranean lakeside promenade, the Zeppelin town of Friedrichshafen or Bregenz with its spectacular lake stage -  these are just some of the beautiful places on your Lake Constance round trip. And at the end, a very special event awaits: a boat takes you right up close to the roaring Rhine Falls.
Rental Bikes
Rental Bike
89 €
E-Bike
199 €
Tandem
199 €
Children's and Teenager's bike
45 €
Trailer
45 €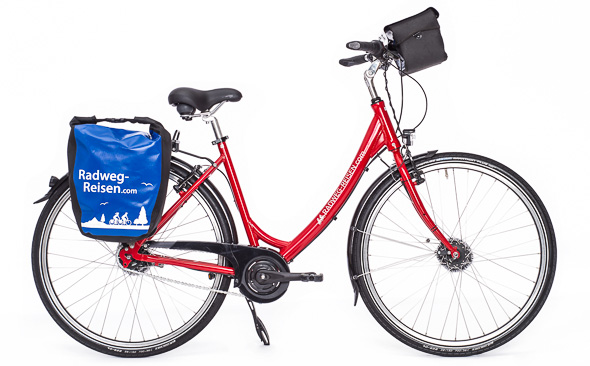 Types of rental bikes
8-gear unisex bike, hub gears with back-pedal brakes (men's bikes from 1.75 m)
27-gear unisex bike, derailleur gears with free-wheel (men's bikes from 1.75 m)
Electric bike with free-wheel (minimum age 16 years)
Tandem
E-cargo bike with 2 child seats
Children's / teenager's bike (20 – 26 inch), children's trailer, children's trailer Weehoo, child seat
Fittings
Pannier, handlebar bag, milometer, bike lock, pump, repair kit
| Rental Bike | |
| --- | --- |
| 8- or 27-gear Rental Bike | |
| | |
| | |
| | |
| Children's / Teenager's bike, Trailer | |
| | |