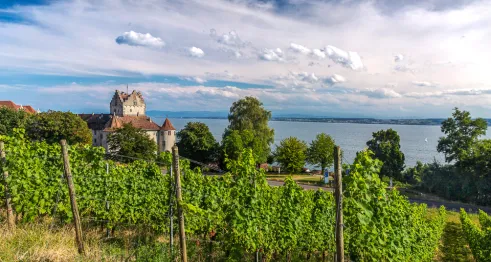 Weekend Trip at Lake Constance
Around upper Lake Constance in three days
 Constance – Lindau – Constance
Easy short tour around upper Lake Constance: Short stages, flat paths 
Zeppelin Museum in Friedrichshafen, Lindau, Bregenz
Daily routes ●●○○○
Altitude profile ●○○○○
Arrive and hop straight onto your bike – that is the motto of this short tour around upper Lake Constance. There's no need to rush as you'll go on a relaxed tour of the largest part of Lake Constance. In three days you will cycle through three countries at a leisurely pace, immersing yourself in the Mediterranean atmosphere of the Lake Constance region. There are countless opportunities to relax and take a break, be this in Bavarian Lindau, Austrian Bregenz or many of the other picturesque spots along the lake. This short bicycle tour around Lake Constance is ideal for a weekend trip and is particularly suitable for cyclists who have a short journey to the lake. If your journey is longer, we recommend booking an additional night at the start of your trip, so you can enjoy a relaxed start to your tour.
Additional bookable services
| All prices are per person | |
| --- | --- |
| Additional fee single room | |
| Extra night in a double room, B&B, Konstanz / Kreuzlingen | |
| Extra night in a double room, B&B, other places | |
| Extra night in a single room, B&B, Konstanz / Kreuzlingen | |
| Extra night in a single room, B&B, other places | |
Rental Bikes

Rental Bike
49 €

E-Bike
99 €
Tandem
99 €
Children's and Teenager's bike
25 €
Trailer
25 €
More details about our

Rental Bikes
Insurance
The GuteFahrt protection includes the following benefits (without deductibles): travel cancellation insurance, health assistance, travel assistance, premature termination insurance, rebooking fee protection and luggage insurance.
These insurance policies are available for different durations of travel and can be booked directly via our online booking form. The costs per person are shown accordingly.
Important information: Authoritative for insurance protection are the general terms and conditions of insurance of AGA International S.A. The complete product and consumer information and terms and conditions of insurance can be found at www.allianz-assistance.de/pib or call: +49 89 - 624 24 - 460 to order a copy. We reserve the right to make changes to the benefits and premiums.
Note: the insurance policies are only available in German!