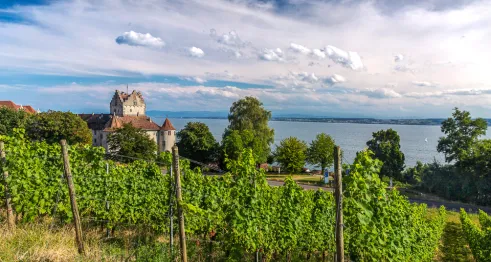 Weekend Trip at Lake Constance
Around upper Lake Constance in three days
 Constance – Lindau – Constance
Easy short tour around upper Lake Constance: Short stages, flat paths 
Zeppelin Museum in Friedrichshafen, Lindau, Bregenz
Daily routes ●●○○○
Altitude profile ●○○○○
Arrive and hop straight onto your bike – that is the motto of this short tour around upper Lake Constance. There's no need to rush as you'll go on a relaxed tour of the largest part of Lake Constance. In three days you will cycle through three countries at a leisurely pace, immersing yourself in the Mediterranean atmosphere of the Lake Constance region. There are countless opportunities to relax and take a break, be this in Bavarian Lindau, Austrian Bregenz or many of the other picturesque spots along the lake. This short bicycle tour around Lake Constance is ideal for a weekend trip and is particularly suitable for cyclists who have a short journey to the lake. If your journey is longer, we recommend booking an additional night at the start of your trip, so you can enjoy a relaxed start to your tour.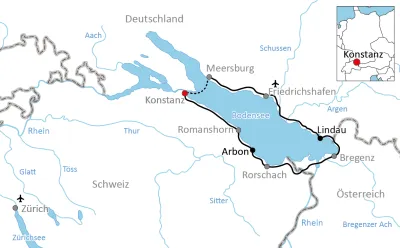 Booking Code
BO-O2
Start / Destination
Constance
Arrival and departure without an overnight stay in Constance
Duration
3 days / 2 nights
Length
approx. 135 km
Daily routes ●●○○○
between 35 and 50 km, Ø 45 km
Altitude profile ●○○○○
Route condition
Mostly along level ground on cycle paths that take you either directly next to the lake or along waterside roads.
Parking information
Fenced parking at our office, cost: 25 € / booked holiday, can be booked online.
Free parking on public roads.
Attention
You must hand over your luggage to us at our office by 10.00 a.m. On your departure day it will be ready for collection by 6 p.m. at the latest. If you have a longer journey, we would happily book an extra night for you before your tour starts or ends.
Tour operated by
Radweg-Reisen
Mobility note
This holiday is suitable to only a limited extent for people with restricted mobility.
Please contact us if you have individual requirements.