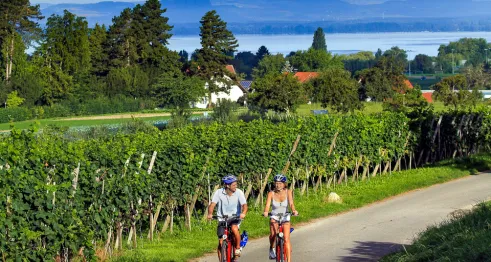 Active Bike Tour around Lake Constance
Our speediest tour
 Constance – Radolfzell – Stein am Rhein – Bregenz – Constance
Speed cycling on athletic tour sections.
Daily routes ●●●●●
Altitude profile ●●○○○
Do you prefer spending your bike tour round Lake Constance in the saddle rather than in a museum? You are a keen cyclist and enjoy an athletic challenge? Daily sections of more than 70 km don't put you into a cold sweat? In that case, this athletic bike tour round Lake Constance is just the thing! 
Once you're on your way, you concentrate on the greatest thing about a cycling holiday: the cycling! In just three sections, you cycle round Lake Constance and it's easy - we take over transporting your luggage. Out and about, you enjoy the feel of the wind in your hair and can make stops just whenever you want. A break for a dip in an idyllic bay or a picnic with views of the alps: on this bike tour round Lake Constance you get to enjoy the Lake Constance cycle path in all its cycling splendour.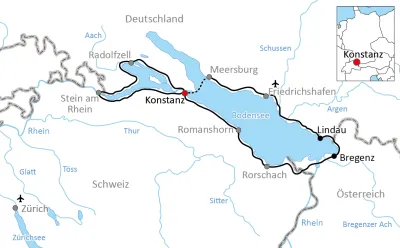 Booking Code
BO-VA4
Start / Destination
Constance
Duration
5 days / 4 nights
Length
approx. 215 km
Daily routes ●●●●●
between 50 and 85 km, Ø 70 km
Altitude profile ●●○○○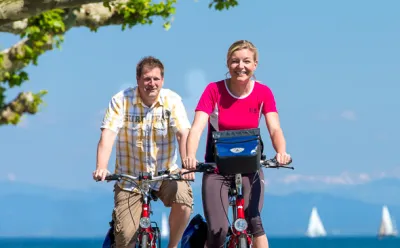 Day 1: Individual arrival in Constance
Welcome to the biggest town on the lake! Before you start your bike tour round Lake Constance tomorrow, you can spend a relaxed day today. Wander through the narrow winding streets of the historic quarter and be inspired by the Badish-Alemanic hospitality. Have a beer in a beer garden at the harbour or enjoy an ice-cream and the views of the snow topped peaks of the alps. Or do you fancy a bit of a cycle ride? Constance, with its cycle roads, bike bridge and countless cyclists, is the cyclists' capital on the lake. 
Day 2: Constance – Radolfzell – Stein am Rhein – Constance, approx. 80 km
On the first section of your bike tour, you circle the romantic Untersee Lake - which many consider to be the most beautiful on Lake Constance! You leave Constance behind you quite quickly. Passing Reichenau Island you head for Radolfzell. After Radolfzell comes the Höri - an idyllic peninsular on the Lower Lake. Otto Dix and Hermann Hesse chose to live here. If you let your gaze wander, you'll soon see why. 
The wonderful Stein am Rhein is perfect as a place to stop: picturesque timber-framed houses where the Rhine flows out of Lake Constance. If the route has been too flat for your liking so far, we recommend taking a trip up to Castle Hohenklingen. You continue your cycle tour along the Swiss bank. Has the Untersee Lake cast its spell on you?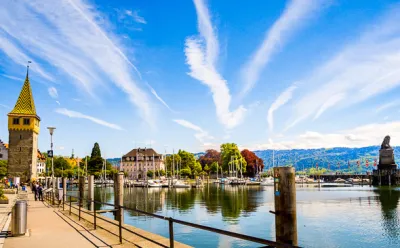 Day 3: Constance – Lindau / Bregenz, approx. 50 / 65 km + ferry trip
Your day begins with a ferry crossing over the lake to Meersburg. From the landing stage, you cycle along the Lake Constance cycle path through Immenstaad and Hagnau to Friedrichshafen. If you like technology, you should interrupt your cycling to visit the Zeppelin museum. It's worth it! 
Next, you cycle through luscious, fragrant orchards to the Bavarian town of Lindau. Make sure you take a break to visit Lindau's historic quarter on the island. Waving to the lion at the entrance to the harbour is also part of this athletic bike tour round Lake Constance! If you stay overnight in Bregenz, it is only a stone's throw to your destination.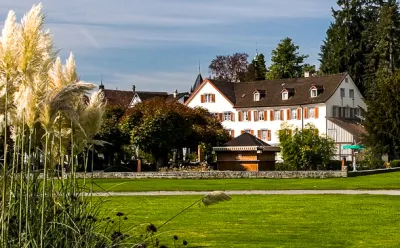 Day 4: Lindau / Bregenz – Constance, approx. 85 / 70 km 
The Rhine Delta marks the border between Austria and Switzerland. The Alpenrhein flows into Lake Constance here, bringing its fresh mountain water. In Stein am Rhein it continues its long journey to the North Sea - but you've seen that already.
The Lake Constance cycle path to Constance is now an easy-going affair. You will pass many places where you can stop for a swim. Make sure you have your swimming gear with you! Back in Constance, you can be proud of your achievement: you have cycled the athletic bike tour round Lake Constance in just three days.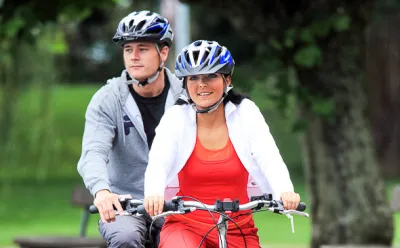 Day 5: Individual departure or extension of stay
Have you already decided which side of the lake you like best? In case you haven't quite decided, we can extend your stay in Constance or any of the other towns on the lake! Your bike tour round Lake Constance doesn't have to come to an end today.