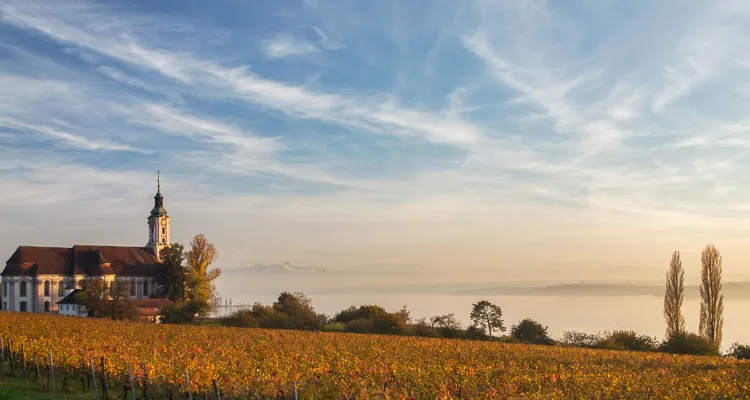 The northern two fingers of Lake Constance are known as Lake Überlingen or Überlinger See. This part of the lake is particularly appealing for mini-breakers coming from Stuttgart, as getting here is easy on the nearby motorway. The holiday resorts of Bodman-Ludwigshafen and Sipplingen are particularly popular among people staying for just a few days or out on a day trip. There are some lovely lakeside beaches, interesting footpaths and plenty of opportunities for some cycle-riding.

On the southern side of Lake Überlingen is the Bodanrück range of hills. The banks between Wallhausen and Bodman are steep and thickly wooded. This area appeals to hikers wanting to walk Marienschlucht Gorge (unfortunately currently closed) or dive at the Devil's Table (Teufelstisch).
Show more
Show less
Lake Überlingen

for cyclists

If you want to cycle round Lake Überlingen, you have basically two options. You can follow the main Lake Constance cycle path round Lake Überlingen from Konstanz via Radolfzell to Überlingen. The route follows level ground via Allensbach and Markelfingen. Note, however, that the cycle path sometimes runs alongside the main Bundesstrasse road.
The alternative is to cycle the Bodanrück hills via Wallhausen, Liggeringen and Bodman. This route is the more challenging, on the one hand because of the altitude profile it has taking you along the Bodanrück range of hills and also because the route itself is slightly trickier. From Liggeringen to Bodman, you follow small roads, leaving the cycle path.
On weekends and during rush-hours these small roads can be quite busy.In Ludwigshafen, both routes meet again to take you to Überlingen via Sipplingen. As you cycle into this little spa town, you are unfortunately forced to cycle along the road, however the ride along the lake's longest promenade makes up for it! From Überlingen there are 13 lovely kilometres of cycling to Meersburg, where the ferry to Konstanz runs every fifteen minutes. The entire route is 65 kilometres.
A great bike tour!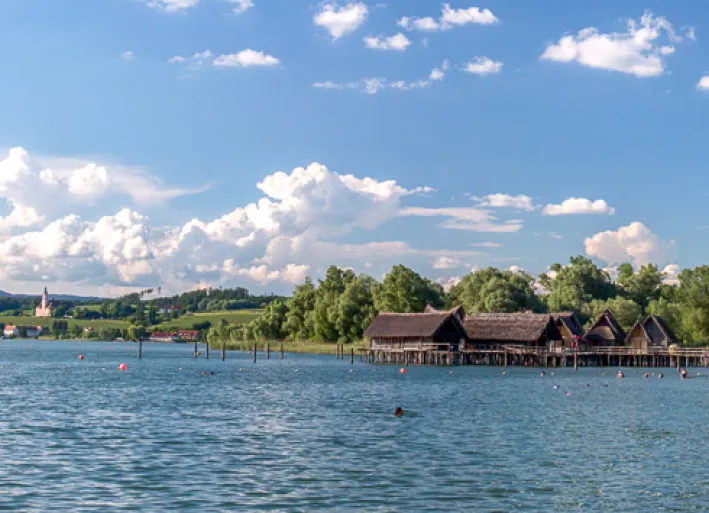 Beaches on
Lake Überlingen
Überlinger See is always a few degrees warmer than the Upper Lake as this part of the lake is largely protected against wind and waves. The banks and beaches have a gradual descent into the water.
Strandbad Wallhausen canoe and boat hire, volleyball, minigolf, playground, extensive grounds
Strandbad Bodman shallow descent into lake, playground
Strandbad Ludwigshafen the oldest beach grounds on Lake Constance; the complex is listed. Includes playground
Strandbad-West, Überlingen lakeside, 250 m, partly sandy, floating trampoline