5 tips: Around Lake Constance on a low budget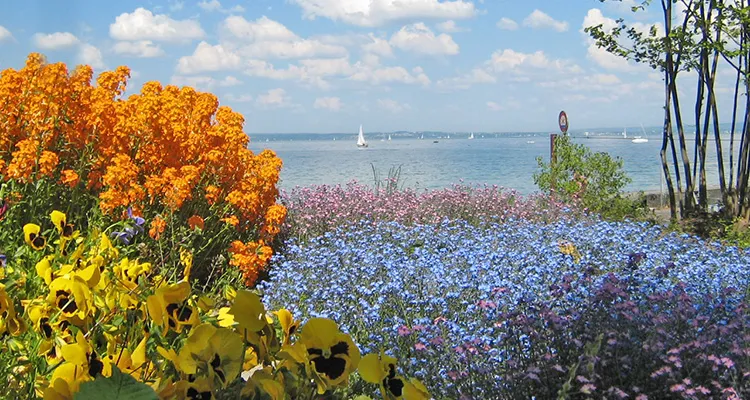 You've just started planning your Lake Constance cycling tour and a bit shocked at the prices for hotels and accommodation? And you keep hearing how expensive Lake Constance is supposed to be. You're not sure how much money you need to plan for a tour along the Lake Constance cycle path? We've got some tips on how you can keep the price of your cycling trip as low as possible.
1. Switzerland is expensive.
On your Lake Constance cycle ride you'll soon see that the high prices in Switzerland as high as they are made out to be. Particularly for things like restaurants and cafes, but also accommodation in Switzerland is often more than in Germany or Austria. Even the otherwise cheaper costing youth hostels along the Swiss part of Lake Constance are no exception: accommodation in dorms in Romanshorn or Stein am Rhein are almost as much as a room in a guesthouse or hotel in Germany.

If your budget for accommodation is not too high your route planning should avoid too many nights requiring accommodation in Switzerland.
2. Don't cycle during the peak season.
Lake Constance has been a popular holiday destination for a long time and every year attracts more people. The summer months of July and August are a busy time in terms of cyclists on the Lake Constance cycle path. During this time the cost of accommodation is considerably higher than the low season because of the rise in demand. So your cycling tour will be lower on costs during late spring and early autumn. And at these times of year you won't have so much traffic on the Lake Constance cycle path.
3. Look for accommodation out of town or in youth hostels.
Outside of the bigger towns around Lake Constance are many guesthouses and hostels with lower prices than the more centrally located hotels.
A night during the festival season in Bregenz, for example, is quite expensive. Here, you could cycle on a few kilometres to Hard, where hostels and family hotels are cheaper.
In the section for accommodation along the Lake Constance cycle path, each type of accommodation is graded by price.
Show more
Show less
4. Take your own food with you.
If you get your own food in the morning from the baker or at a supermarket then you won't be reliant on expensive restaurants during the rest of the day. In Switzerland, particularly, eating out in restaurants is expensive. If you start your cycling holiday well prepared, then you can treat yourself to an ice-cream or slice of cake or get yourself a ticket for a museum without a guilty conscience.
5. Remember the concealed costs.
Visitor's tax, surcharges for short stays, bedding - these and more concealed costs could be added to the price of your accommodation. Treat low cost offers with caution and make sure you read what's included in the seemingly low price and what could be added when you arrive.
When planning a Lake Constance cycling holiday you can soon lose sight of your total costs. If you book each hotel individually, the invoices will also come in individually. Always note down what each hotel costs, what's included and what's not.
Show more
Show less
Insider tip: evenings on the island of Mainau.
A Lake Constance cycling holiday is not complete without a visit to the Island of Mainau. However admission, at EUR 21 per person is not exactly cheap. If you visit the flower island in the evenings, though, you can buy a sundown ticket.
From 17.00 until the island closes, you pay only half price for a ticket.
If you want to be out on the Lake Constance cycle path on a low budget, then it's important to make sure you keep track of your expenses. Accommodation, boat trips, admission tickets and food can quickly add up to quite an amount. If you cost in all of this in advance and keep an eye on our tips, then you'll know the estimated cost of the trip. And nasty surprises for your wallet shouldn't get out of hand.
As soon as you've put a figure on your budget, it's worthwhile having a look at our available offers. In the cycling holidays offered here, not only is accommodation and a luggage transfer service included, but also frequently boat trips and tickets for certain sights. Here you won't be surprised by any unexpected sums of money: you just get a single invoice. And this is often lower than the overall sum you'll pay if you plan the trip yourself.
Show more
Show less