For self-planners: luggage transfer service around Lake Constance
A lot of cyclists and hikers organize their tour around Lake Constance themselves. Our luggage transfer service around the lower and upper lake is available to people organising their tour independently.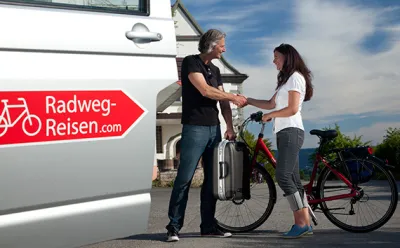 So how does it all work?
You put your luggage at the reception by 09.00.
By 18:00 at the latest, we will have brought your luggage to your desired destination.
Between 09.00 and 18.00 there must be continuous access to the luggage for our drivers. Unfortunately, we cannot drive to private accommodation and guesthouses with reception desks that are not manned at all times for this reason.
Prices
EUR 14 / suitcase and transfer
Payable by invoice / bank transfer or PayPal.
We can transfer cases up to max. 20 kg / case.
Overview map
Almost all cyclists pedal round Lake Constance in a clockwise direction; if you cycle round the lake "to the right" you'll be cycling next to the lake, whereas if you cycle round the lake "to the left" the road will be between the lake and the cycle path. That's why we offer our luggage transfer service only in a clockwise direction.
In addition, we can not provide any transportation within Switzerland. However, transportation to Switzerland or from Switzerland to Germany or Austria is not a problem.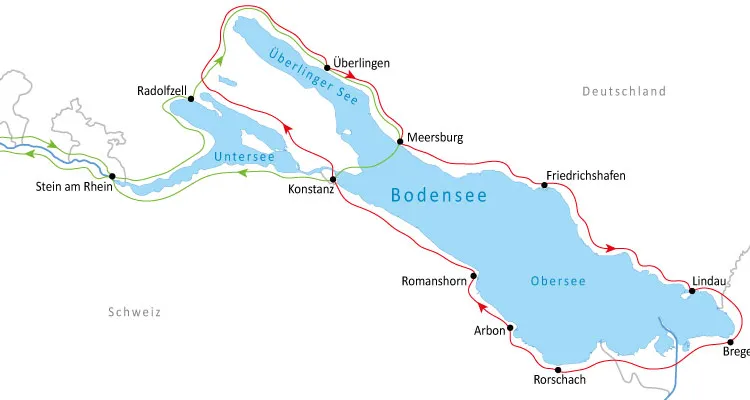 Our luggage drivers start and finish in Constance, which means that we cannot transfer any luggage further than Constance - and only in a clockwise direction around the lake. The drivers can transport the luggage in all places on the shore of Lake Constance between Bregenz and Schaffhausen / Neuhausen.