For self-planners: luggage transfer service around Lake Constance
You cycle - we take care of your luggage!
So how does it all work?
You put your luggage at the reception by 09.00.
By 18:00 at the latest, we will have brought your luggage to your desired destination.
Between 09.00 and 18.00 there must be continuous access to the luggage for our drivers. Unfortunately, we cannot drive to private accommodation and guesthouses with reception desks that are not manned at all times for this reason.
When and where? 
Daily from mid-April to mid-October
Clockwise around Lower and Upper Lake
For planners: Book online or by e-mail up to seven days in advance.
You can find more information further down on this page or in our questions and answers on luggage transport.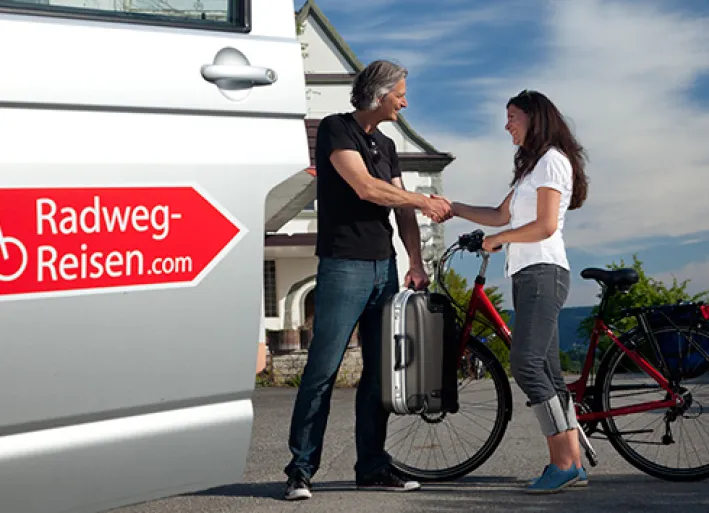 Book luggage transfer service:
Radweg-Reisen GmbH
Logistik
Fritz-Arnold-Straße 16A
78467 Konstanz
or book by e-mail: logistik [at] radweg-reisen.com
 
Show more
Show less
Overview map
Almost all cyclists pedal round Lake Constance in a clockwise direction; if you cycle round the lake "to the right" you'll be cycling next to the lake, whereas if you cycle round the lake "to the left" the road will be between the lake and the cycle path. That's why we offer our luggage transfer service only in a clockwise direction.
In addition, we can not provide any transportation within Switzerland. However, transportation to Switzerland or from Switzerland to Germany or Austria is not a problem.
Show more
Show less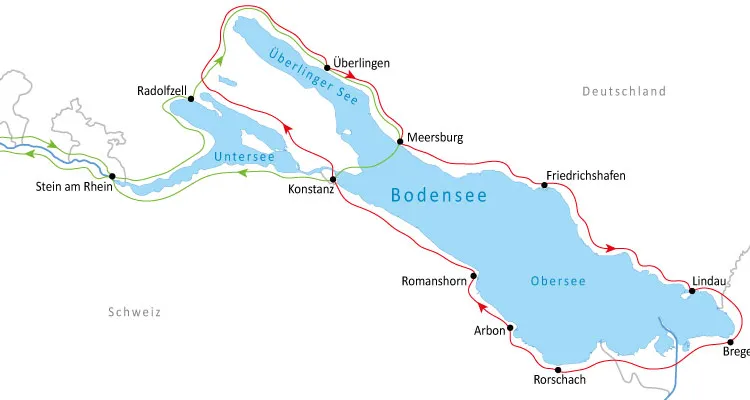 Our luggage drivers start and finish in Constance, which means that we cannot transfer any luggage further than Constance - and only in a clockwise direction around the lake. The drivers can transport the luggage in all places on the shore of Lake Constance between Bregenz and Schaffhausen / Neuhausen.
Show more
Show less
Which pieces of luggage are transported?
We only transport closed pieces of luggage, i.e. all standard suitcases or travel bags. What we do not transport are open bags, boxes with wine bottles or similar items. Please do not pack anything fragile in your luggage. 
A piece of luggage may weigh up to 20 kg. We have agreed on this with our luggage drivers. 
Luggage arrival: By 6 p.m. 
As it is possible, especially on short stages, that you will arrive at your next hotel before your luggage, it is best to pack a set of fresh clothes in your day luggage. This way you can freshen up already without waiting for your luggage.
Cross-border luggage transport
For customs reasons, we are unfortunately unable to transport luggage within Switzerland. However, if only one station of the stage, i.e. the pick-up or destination, is in Switzerland, we will of course be happy to take care of the transport. 
As Lake Constance borders on three countries, Germany, Austria and Switzerland, customs controls also take place in the hinterland and not only when crossing the border.
Leave your luggage unlocked so that it can be checked by customs if necessary. If your luggage has been checked during the day, you will of course receive a message from us. Due to customs regulations, we are not allowed to transport alcohol, tobacco or similar in your luggage.
Limitation of liability
We accept no liability for valuables of any kind. Securities, cash or gold bars are therefore excluded from transport, as are medical equipment, fragile goods, laptops and live animals. In the event of loss or damage to your luggage, the contractual liability is limited to 750 euros / piece of luggage.
Show more
Show less