Youth hostel cycling holiday round Lake Constance
A Lake Constance cycling holiday from youth hostel to youth hostel is a great way to save costs on accommodation - not just for families - and have a wonderfully relaxing cycling holiday. The youth hostels are almost all close to the Lake Constance cycle path making it easy to cycle your daily sections without any major detours.
If you don't mind doing some organisation in advance, then you'll have a wonderful cycling holiday to look forward to. With our luggage transfer service, you can enjoy easy cycling even on a youth hostel cycling holiday around Lake Constance.
Starting in Constance
Most cyclists start their Lake Constance cycling holiday in Constance. From this, the biggest town on the lake, you are soon on the islands of Mainau and Reichenau - a visit is a must on a Lake Constance cycling holiday. If you move the start of your Lake Constance cycling holiday to Constance, then you will also finish your holiday here. With two nights - one at the beginning and the other at the end of your cycling holiday, you'll definitely have enough time to visit all the sights in and around Constance.
Youth hostel, Constance
The landmark for youth hostels in Constance is the Otto-Moericke tower, which used to be a water tower. You'll be able to see your accommodation from afar! This youth hostel is in a part of Constance called Allmannsdorf, and is located on a hill. The view of the lake and the alps will quickly make up for the effort needed to get up the hill!
Day 1: Constance – Stein am Rhein – Constance, ca. 35 km + Schifffahrt oder ca. 69 km
Your first destination on your youth hostel cycling holiday is the UNESCO World Heritage Site, Reichenau Island. You cycle along a famous avenue of poplars with beautiful views of the island, which was once the centre of the religious world. Today still, various churches and written documents are testament of this rich cultural heritage. Due to the warm climate on and around the lake, Reichenau Island today is particularly known for its fruit and vegetable produce. It also has wonderful views of the volcanic craters of the Hegau area and the more gentle hills of the Swiss side, opposite.
On Reichenau Island, get a boat to Gaienhofen on the Höri peninsular.
Boat trip Reichenau – Gaienhofen: Schedule and prices
The pretty Höri peninsular wasn't just an important source of inspiration for Hermann Hesse. There are a few hills now between you and Stein am Rhein. This charming town is one of the prettiest on the lake! Its winding streets are lined closely with colourfully painted, crooked old timber-framed houses from the Middle Ages. Stein is watched over by Hohenklingen Castle, which is located on a hill above the town.
After an extensive wander around the town, enjoy a pleasant boat ride back to Constance. The views of the banks of the Lower Lake and Reichenau Island are simply magnificent!
Our tip:
Instead of sleeping in Stein am Rhein, stay one more might in Constance' youth hostel after this section. This will save the costs of the more expensive Swiss youth hostels. Another benefit is that if you return to Constance, you won't need to take your luggage with you. Your panniers stay in Constance and you can be out cycling with just a day pack.

If you want to extend this section, simply leave out the boat ride from Stein am Rhein to Constance. In this case, cycle back to your youth hostel in Constance along the Swiss side of the Lower Lake. Sometimes you'll have to cycle on the road as you go through the small, charming little villages along the way. Outside of the villages you are always led along the pavements, making for easy-going cycling.
Day 2: Constance – Radolfzell – Überlingen, approx. 52 km
From the youth hostel in Constance, you have great views over to the flower island of Mainau, which is located in the Überlinger See part of Lake Constance. Just a few kilometres on your bike and you arrive at the gates of this noble island. Give yourself enough time to visit this island. The colours and variety of the different flowers is simply stunning.
Back on your bike, you now cross the Bodanrück range of hills. This is the strip of land separating the Lower Lake from the Überlinger See part of Lake Constance. After Dingelsdorf, it's time to tackle a number of inclines as you cycle along the Lake Constance cycle path via Dettingen and Kaltbrunn to Radolfzell.
Reward yourself for your pedalling with an ice-cream in this lovely old town. From the Lower Lake you now set off for Überlinger See, which you reach in Bodman. Leaving Ludwigshafen, you cycle alongside the lake via Sipplingen to Überlingen, your next destination: a town that was once an important trade hub.
Youth hostel, Überlingen
The youth hostel in Überlingen is one of the most modern around Lake Constance. After much renovation, it was reopened in February 2016. Each room, no matter whether it's a single or multiple-bed room has its own bathroom including shower and WC. In the garden you'll find table tennis tables and a large football area.
Day 3: Überlingen – Friedrichshafen, approx. 32 km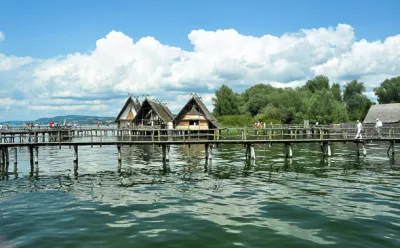 The slightly shorter section by bike along the Lake Constance cycle path to the next youth hostel is so that you have enough time to see the many sights along the way. Birnau, an opulent pilgrimage church, for example, or the pile dwellings in Unteruhldingen or the fort and castle in Meersburg. There's lots to see and do. A detour to take in the monkey sanctuary in Salem is also a great trip! The monkeys will even eat out of your hands! If you arrive in Friedrichshafen in the early afternoon, you can also pay a visit to the Zeppelin museum. You'll find a true-to-scale reproduction of the famous Hindenburg airship. 
Youth hostel, Friedrichshafen
Count Ferdinand von Zeppelin, the famous inventor of the Zeppelin shipyard also lent his name to the youth hostel in Friedrichshafen. The youth hostel is right on the cycle path and cannot be missed.
Day 4: Friedrichshafen – Hard, approx. 42 km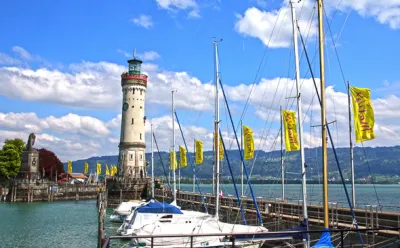 Two highlights of this cycling holiday around Lake Constance are on today's agenda: Lindau with its unique old town on an island and the festival town of Bregenz. There's a lot to discover in both these towns: a 6-metre high marble lion, who watches over Lindau harbour and the always changing lake stage in Bregenz. Lindau has a youth hostel, but we would suggest staying in Hard on today's section, which is a suburb of Bregenz. This makes the cycle ride today just the right length, not too long and not too short.
Das Junge Hotel, Hard
Lake Constance and the River Rhine are not far. Perfect for bringing the day to a close by spending the evening on the banks. Das Junge Hotel in Hard is a modern youth hostel just a few kilometres from Bregenz. It offers single rooms, multi-bed rooms and family rooms.
Day 5: Hard – Constance, approx. 67 km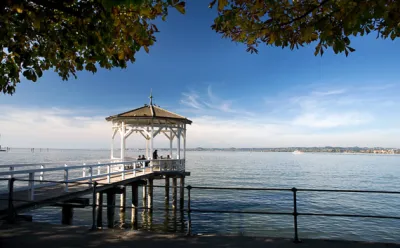 Today you will cycle over two national boarders: From Hard in Austria, it's just a few kilometres to the border to Switzerland. Via Rorschach, Arbon and Romanshorn, today you cycle the last section of your cycling holiday along the Lake Constance cycle path. On the way you'll pass many places where you can go swimming - great for taking a break. In the evening, moving between the two neighbouring towns of Kreuzlingen and Constance, you cross the border between Switzerland and Germany.
On this section, you cycle through Switzerland but don't have to pay for expensive Swiss accommodation. As with many other things in Switzerland, the price for accommodation in youth hostels along the Swiss banks is quite a lot more than what you'll pay in Germany or Austria. If you think this section is too long, then book our luggage transfer service! It's much easier cycling without all that gear!
Tips for your Lake Constance cycling holiday from youth hostel to youth hostel
Modern accommodation and a relaxed atmosphere instead of long corridors and cold showers.
If youth hostels make you think back to class trips, which were characterised by cold showers, terrible food and bunk beds in dormitories, then you'll be in for a pleasant surprise in these modern hostels: the hostels have been renovated to a large extent to make sure guests have a relaxing stay. Smaller rooms, modern sanitary facilities and a relaxed atmosphere are the words to describe youth hostels today. Not just families will enjoy their holidays in youth hostels, but also single travellers are likely to find friends.
A lot of youth hostels around the lake have been distinguished by ADF as bett+bike hotels: this means there is a store room to park bikes, drying rooms for wet cyclists' clothing, tools to do small repairs and the opportunity to spend just one night in the youth hostel - not always possible in other hotels and guesthouses around Lake Constance in peak season. The next morning, you cycle on to your next destination.
Youth hostels in Germany: Membership is obligatory.
German youth hostels are centrally organised by the German Jugendherbergswerk (DJH). To stay overnight, you have to be a member of a non-profit association. The membership costs are not high (approx. EUR 22.50 per family and calendar year, status August 2016) and if you don't sign up until the second half of the year, then you'll only pay half price for the current year.
It's worth planning early.
Lake Constance is not just a popular destination during peak season. The lesser expensive accommodation in youth hostels are therefore booked up quickly. It's wise to plan a few months in advance.
For you and your children: family room instead of dormitory.
In the multi-bed rooms in youth hostels, guests are usually separated by sex. A great alternative for families are the family rooms - your family can stay together in one room. These rooms often have a separate WC/bathroom which you don't have to share with other guests.
As these rooms are very popular among families, they are booked up extremely quickly. Another reason why it's good to plan your youth hostel cycling holiday round Lake Constance a few months in advance.