Approx. 58,000 inhabitants.
Second largest town on the Lake Constance cycle path.
It is considered to be the area's biggest trade fair site.
Small history overview:
Friedrichshafen is on the northern bank of Lake Constance. With 57,000 inhabitants, it is the second largest town on Lake Constance and is the area's biggest trade fair site. The roots of the town date back to the 5th century.

It got its name from Friedrich I, the first King of Württemberg. He merged the old town of Buchhorn with the village that belonged to the former Hofen Abbey and built the harbour. With the introduction of the railway and the Lake Constance steam ships, Friedrichshafen became one of the most important transport hubs on Lake Constance. At the beginning of the 20th century, Count von Zeppelin was the person to turn Friedrichshafen into the centre of German airship production.

However, the town was largely destroyed by air raids carried out by the Allies during the Second World War. Following the rebuilding, the town developed into a significant location for industry.
On a wander along the lakeside promenade, one of the longest and prettiest on Lake Constance, you can enjoy views of the lake and the Swiss Alps.

Worthy of a visit are the Zeppelin Museum in the harbour station, a stylish building from the 1930s, also Lake Constance museum and the Upper Swabian school museum. Of the few historic buildings, the castle dating back to the 17th century and the castle church should be mentioned.
Sights in Friedrichshafen
The Zeppelin Museum:
The extensive exhibitions provide interesting facts about the different designs, starting and landing procedures, aerodynamics and navigation as well as about how the airships have been used by the military and for civil purposes.

One of the most fascinating exhibits is the 33 m long reconstruction of the LZ 129 Hindenburg, which is absolutely true to the original.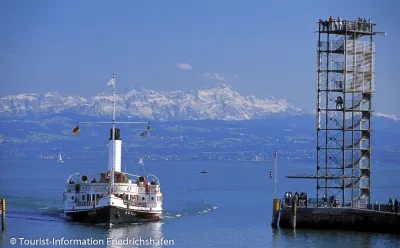 The viewing tower on the jetty:
The jetty tower in the harbour has an unusual appearance: a 22m-high steel structure with a viewing platform that provides idyllic views of the town, the lake and the opposite banks with the Alps in the background.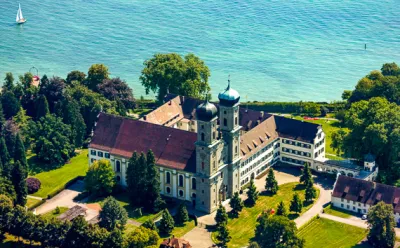 Friedrichshafen Castle:
It was originally built as a priory for the Benedictine monks in Weingarten in 1654. The monastery was dissolved in 1802 but rebuilt under Wilhelm I von Württemberg. During 1824/28 until 1918, the castle functioned as the summer residence of Württemberg's kings. Today it is where Friedrich Herzog von Württemberg lives. The castle can only be viewed from the outside.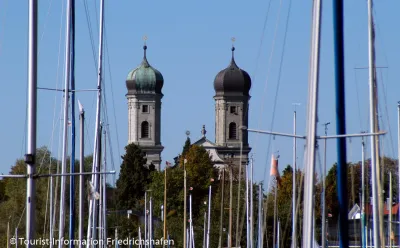 Castle Church:
This is the city's landmark. With the tow 55 m high domed towers made of sandstone from Rorschach, it was built between 1695 and 1701. It is considered to be the most famous Upper Swabian constructions of the Baroque period. In 1944 it was partially destroyed by the air raids but was rebuilt between 1947 and 1951.