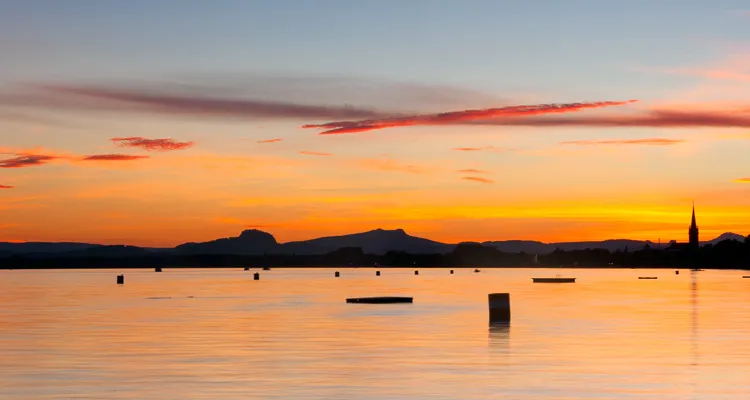 Approx. 30,000 inhabitants
The town is on the northern curve of the Lower Lake
Small history overview:
Radolfzell lies on the so-called Zeller See Lake, part of the Lower Lake, amidst an extensive nature and landscape protection area, the most important part of which is the semi-peninsular, Mettnau. The core town of Radolfzell has about 18,500 residents and the surrounding 6 communities make up another 10,000 people.

Thanks to its central location, this holiday and spa resort has developed into a popular holiday destination. The charming old town, with its car-free pedestrian precinct, is perfect for a wander. From the lakeside promenade, you can look over to Mettnau. In 800, Bishop Radolf from Verona founded a tiny church close to Reichenau Abbey and called it "Cella Ratoldi. In the 12th century, Radolfzell was granted market rights and in the 13th century, town rights.

The town's connection to the railway network accelerated urban development and industrial businesses settled here. In the 20th century, Radolfzell developed more and more into a spa and a place for relaxation. In 1949 it became a member of the German Bäderverbund (swimming pool association) and established the so-called Mettnau spa, whose motto is healing through movement.
Particularly sightworthy are Radolfzell's town gardens, located in the Stadtgraben. The little Austrian castle is very striking. It's a Renaissance building from the 17th century, and today is home to the town library.

Radolfzell has developed into quite a shopping town in the last few years. Alongside many small traditional shops, since 2006 another magnet has been added to the town: in the former production halls of the underwear manufacturer, Schiesser, is seemax, an outlet centre just a few minutes' walk from the lakeside promenade.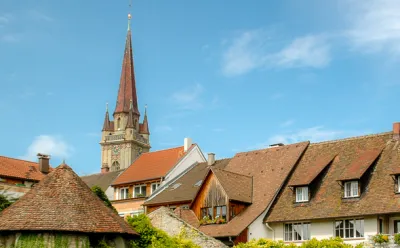 The Minster of Our Lady
The three town patrons, Theopontus, Senesius and Zeno, known regionally as the "landlords" have been honoured by the people off Radolfzell since the founding the town. In the Gothic Minster of Our Lady, you can see the so-called "Landlords' altar" as well as a wonderful silver treasure. From the tower you have lovely views.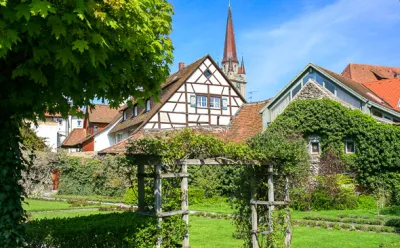 The town wall and the fishing quarter, Griener Winkel
Next to the town gardens is the romantic town centre of Radolfzell. Passing low, sometimes crooked timber-framed houses, wander through what was once a poor fishing settlement. Here is where you'll also find the Pulverturm, a low round tower that developed from landfills and the slightly higher Witches Tower.
The meaning of the name Griener Winkel has never been fully explained. Grien could mean the green colour of the roof tiles, the grins of the shut-up prisoners or refer to the gravel and sand that was washed up by the lake.