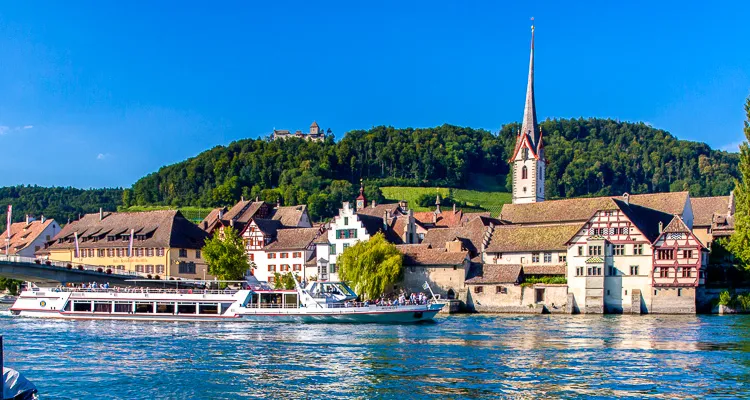 Approx. 3 000 inhabitants
Belongs to the canton of Schaffhausen.
Lies at the foot of Castle Hohenklingen, which is an extremely well preserved castles from around 13th century.
Small history overview
Stein am Rhein belongs to the canton of Schaffhausen and has about 3,000 inhabitants.
The town is spread over both sides of the Rhine and is watched over the Hohenklingen Castle.
As early as the 500 BC, the region along the left bank of the Rhine River was occupied by fishermen. Since then the town's history has been shaped by its location on the river. It was the Romans who had the first fort built on the left bank, in order to protect themselves from attacks. Essential for the further development of the town itself (on the northern bank of the Rhine) was its well serviced location where a water trade route connects with a road.
From 1000, Stein am Rhein developed from a fishing and farming village into a hub for goods and trade. The town lies at the end of the Lower Lake, where the Rhine flows out of Lake Constance has the Hochrhein. It is characterised by the magnificent square in front of the town hall, idyllic winding streets and countless frescoes on the beautifully restored town houses.
The town is by far the best preserved medieval town in Switzerland. Below the historic buildings, the monastery of St. Georgen situated right on the Rhine, assumes a very special cultural and historical status. But Werd Island and Hohenklingen Castle are also very close. In 1999, when Lake Constance flooded over its banks, Stein am Rhein was a picture of thousands of sandbags piled up to protect the old town. A resourceful local baker took this misfortune and created a sweet pastry endearingly called the "sandbag" to remember the occasion.  Bon vivants will make some finds in the wine cellar, Zur Gerwe, in the historic quarter at the jetty. This is where the wine is sold that comes from the vineyards over the town.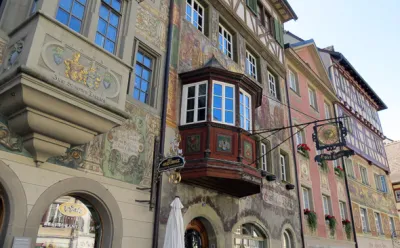 The historic centre of the town
The town is by far the best preserved medieval town in Switzerland. The elegant town-hall square, idyllic nooks and alleyways, numerous frescoes on beautifully restored town houses turn a wander through this town into a real treat.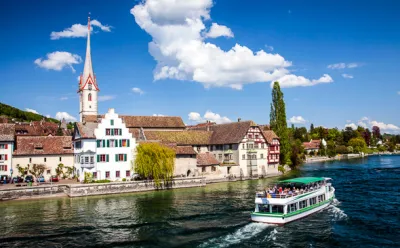 St. Georgen monastery
The former monastery, now a museum, is in excellent condition with beautifully decorated abbey houses and the former Grisaille pictures of 1515/1516 in the ceremonial hall. It used to be a small community of monks here - there were never more than 12 monks living in these extensive grounds.