Two days at the Lower Lake on a mountain bike
Day 1: Radolfzell – Reichenau Island, 52 km / 1000 altitude difference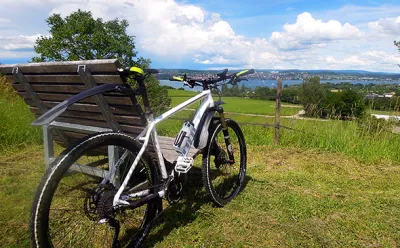 This weekend has been chosen to go off the classic Lake Constance cycle path into the countryside between the Überlinger See and the Lower Lake. The Bodanrück, which refers to the range of hills between these two parts of Lake Constance, is simply paradise for mountain bikers, hikers and people who simply being out and enjoying life (like me).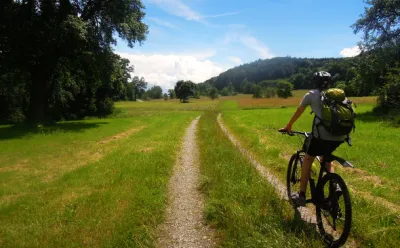 The start:
It's late morning and we arrive on the train from Ulm. Thanks to the Baden-Württemberg Ticket, getting here by train with a bike is quick and inexpensive. At Radolfzell's farmers' market we fill our backpacks with provisions for the tour and set off to pedal the first metres of altitude.

We are soon on the cycle path out of the town and cycle initially on the cycle path on the road to Möggingen. If it were warmer, we could go for a swim in Mindelsee - a small lake at the edge of the woods - but we decide to continue uphill to Güttingen. From here we're thankful that we have GPS, as we want to follow many different forest trails which could easily otherwise get us lost. And who wants to tackle hills for no reason?!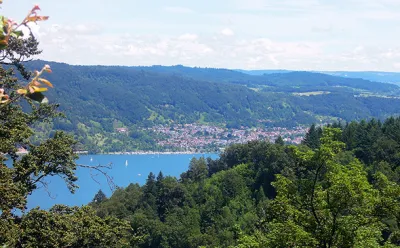 Liggeringen, Altbodman ruins and Hof Höfen:
At the top of our approximately one hour climb, are Altbodman ruins, west of Liggeringen. From here you have wonderful views over to Überlingen and Überlinger See. But the views into the back country are lovely too. From this, the highest part of the Bodanrück hills you can see right down to Hegau with its volcanic craters.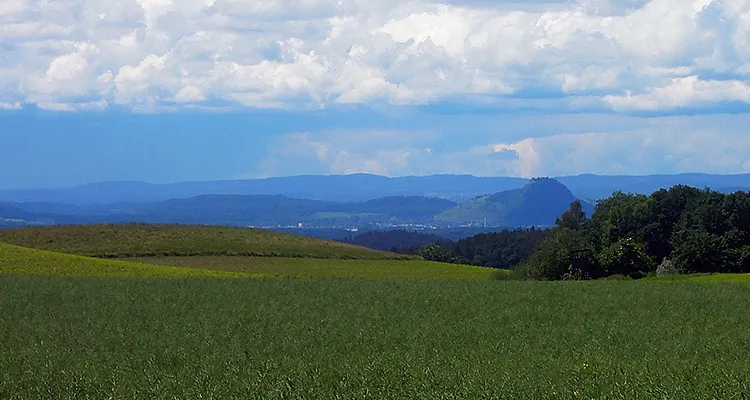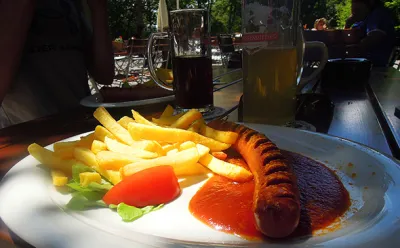 Just before Langenrain, we decide to stop for a break in the forest guesthouse, Hof Höfen. In the shady beer garden they serve simple but excellent dishes. There's also a small playground and plenty of space for cyclists and hikers.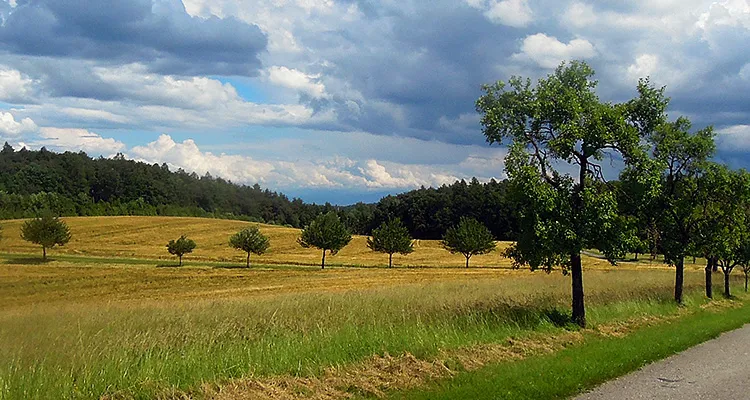 Dettingen, Purren viewpoint and boat trip to Reichenau Island:
We pedal downhill to Freudental and then have an uphill section to Rohnhauser Hof. This small lodge in the forest before you reach Dettingen is known locally for its eggs. In the farm shop you can also buy schnaps.

After Dettingen, we pass Ziegelhof, which also has a great beer garden and is a popular family destination because of their roughly 100 horses! Our focus is on cycling through and we continue up to the next woods between Dettingen, Dingelsdorf and Litzelstetten. Some other cyclists give us the tip to visit Fuchshof in Oberdorf. Here you can pick your own strawberries or enjoy a coffee and a slice of homemade cake at a shady table in the garden. No sooner said than done. And we definitely did not regret it!

Refuelled, we continued along the high path to Litzelstetten and then pedalled up a steep trail to the Purren. In foehn weather, you can see the end of Lake Constance from here - and even further to the Oberstdorf alps. Today, though, we continue to be impressed by the wonderful cloud formations that have been accompanying us the whole time.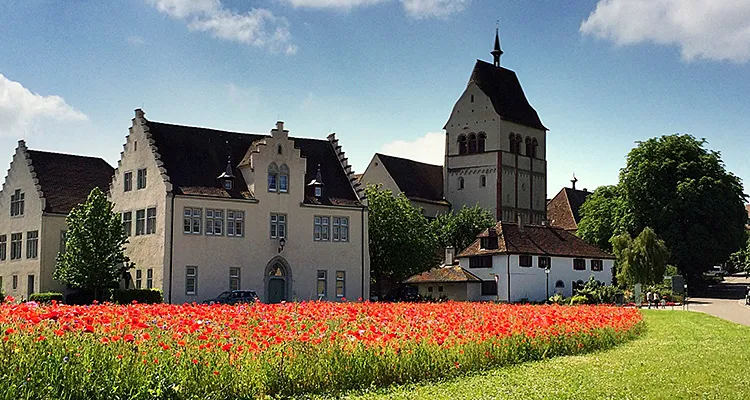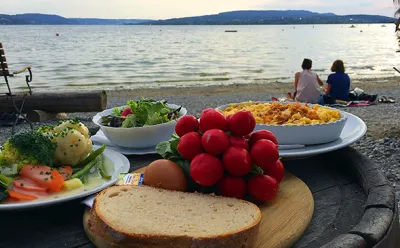 We cycle through the Bodanrück woods one last time, past Dettinger Weiher to Allensbach. Here, we hop on board a small boat to Reichenau island and allow the evening to come to a pleasant close over a vegetable dish at Sandseele campsite, watching a spectacular sunset.
Day 2: Reichenau Island – Stein am Rhein – Radolfzell, ca. 54 km / 1100 altitude difference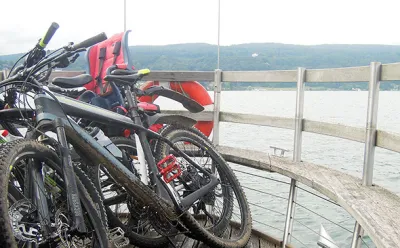 Boat trip to Switzerland, Arenenberg Castle, Stein am Rhein and Schiener Berg
The weather today isn't quite as good as yesterday. Luckily there are still a few rays of sunshine making their way through the rain clouds, though.

But getting up to rain is not such an easy task! And we can feel the kilometres in our leg muscles from the day before. The solar ferry doesn't leave until half ten, so we have enough time for a long breakfast and a short tour of Reichenau island, which is not just a vegetable-growing island, but has also been declared a UNESCO World Heritage Site. Just before eleven, the solar ferry drops us off in the small Swiss town of Mannenbach.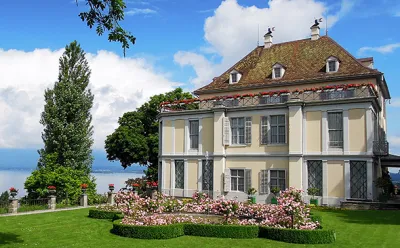 Our cycle path now takes us up, climbing steeply. Good that we can stop for a breather after the first metres of altitude at Napoleon's Arenenberg Castle. The views over to Reichenau Island and Radolfzell are amazing.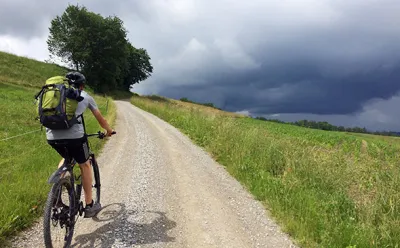 The route takes us up steeply, sometimes through woods and then along the forest edge. The views of the Lower Lake and the place where the Rhine leaves Lake Constance are beautiful. Opposite us are Germany, and the Hegau region.

The good weather is over, unfortunately, and we cycle with speed directly to Stein am Rhein. Here we have time for a quick "Schümli" Swiss coffee in the town's cosy historic quarter, before tackling the steep Scheiner Berg to Radolfzell. If the weather had been better we would have taken more breaks, but in this case we were happy to reach Radolfzell station and start back on our journey home.