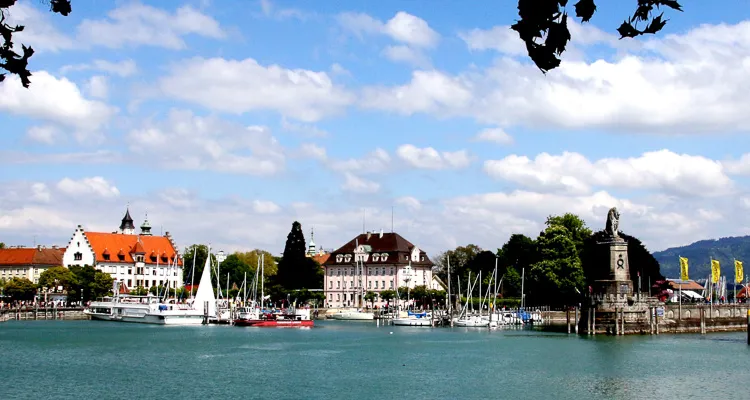 Approx. 24,000 inhabitants.
The most south-westerly town in Bavaria.
Every year, the Nobel prize winners from medicine, chemistry and physics meet to discuss up-and-coming student talents from all over the world.
Lindau comprises a garden town on the mainland and an island town. They are connected by a bridge and a railway dam.
Brief historic overview
The Bavarian island town of Lindau, which is on the north-eastern bank of Lake Constance, has approx. 24,000 inhabitants. Over 3,000 of them live on the island.
The town was presumably founded around the year 200, when a villa was built in the part of town that is called Aeschach today. In the 11th century, Aeschach market was moved to the island. This was the basis for the town's further development. The town received further rights and freedoms during the 12th and 13th centuries enabling it to develop very well.
The textile industry was an important mainstay for Lindau's industry into the 19th century. In 1838, the "Ludwig" began its service in Lindau as the first iron steam ship on Lake Constance. Develop-ment of the railway from Munich to Lindau promoted industry and brought guests to the Bavarian town. The first hotels were built on the island in around 1860. After World War II, Lindau was occu-pied by the French and thus separated from the rest of Bavaria. It wasn't reintegrated into Bavaria until 1955.
On a visit to the town, you shouldn't miss out on a walk around the historic quarter. Many buildings from the Gothic, Renaissance and Baroque periods have characterised the cityscape. Particularly interesting is Maximilianstrasse, the high street, with wonderful flower decorations on the Patrician houses, timber-framed buildings, colonnades, fountains and restaurants enticing you to while away some time there. Four old towers (the old land new lighthouses, Diebesturm (Thieves' Tower) and Pulverturm (Powder Tower) are still part of the old townscape and part of the old town fortifications.
The town's landmark is the old lake port, which was built in 1812 and is decorated by a 6-metre high Bavarian lion made of Kelheim marble.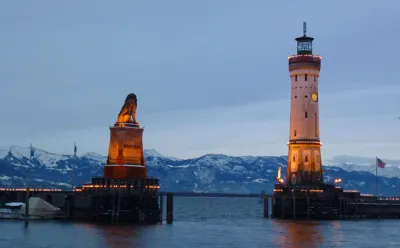 The old lake port
The town's landmark from 1812. The new lighthouse (Bavaria's only lighthouse!) and the 6-metre high lion made of Kehlheim marble frame the quay wall.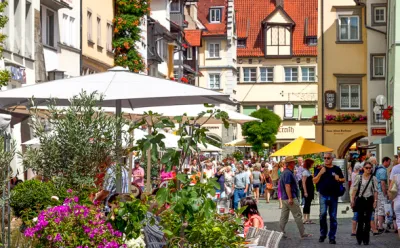 Maximilian Street
The town's high street has lots of elegant town- and timber-framed houses, colonnades, markets and gables from the 16th and 17th century.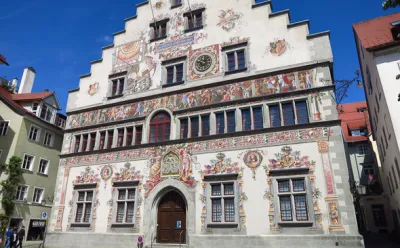 The old town hall
It was originally built in 1422 in a Gothic style, but converted in 1576 to follow the Renaissance style.  Lindau's history was painted on to the southern front in the 19th century.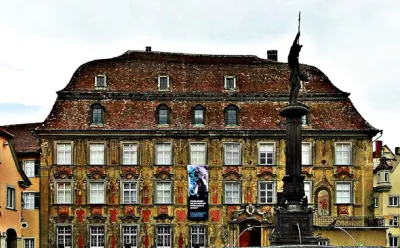 Haus zum Cavazzen
It is located on the marketplace (no. 6) and, with its colourful frescoes and elaborate inner design, is considered one of the most beautiful townhouses on Lake Constance. Today, it is home to the town museum.