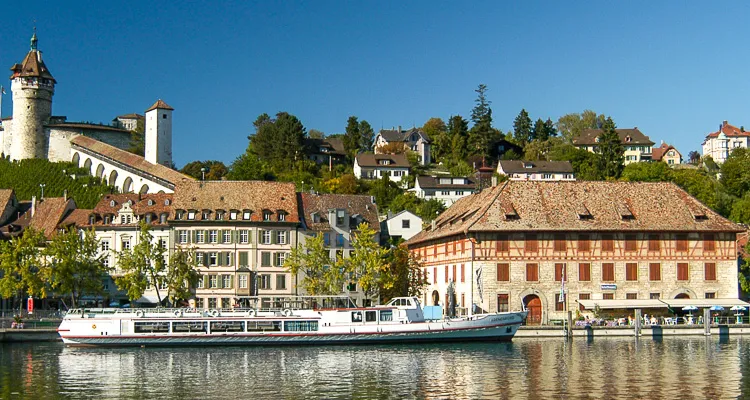 Approx. 35,000 inhabitants.
Known in the local dialect as Schafuuse.
Schaffhausen is Switzerland's northernmost town.
Brief historic overview
Schaffhausen is the capital of the canton of the same name. About 34,000 inhabitants live here, making it one of Switzerland's medium-sized towns.
In 1045, Emperor Heinrich III awarded Count Eberhard III the right to mint and issue coins for Schaffhausen. It made sense to found a town at this location as it was here that goods shipped on the river had to be unloaded and transported overland to by-pass the Rhine Falls.  Over the course of time, Schaffhausen developed into a flourishing transhipment point, bringing the town considera-ble prosperity. After a chequered history, in 1501 Schauffhausen entered the Swiss Confederation as its 12th member.
Today, the name Schaffhausen has become known for its companies from the metal, chemical and watchmaking industries. The town's wonderfully intact historical quarter and its beautiful loca-tion on the Rhine River contribute considerably to its charm. On a wander through the streets of this car-free old town, you will feel as if you've been whisked back in time. Pretty town houses from the Gothic and Baroque periods, and 170 gables, which used to be attached to houses as status sym-bol, shape the face of this lovely town.
Tuesdays and Saturdays are market days in Schaffhausen; the vegetable market is held in Vorder-gasse. There are many other appealing shops and cafes in the town, too. The town's landmark is Munot Fortress, which rises majestically over the town. From here, you have great views of the unique river landscape formed by the Rhine.
Even more famous than Munot Fortress are the Rhine Falls, which are only a few kilometres from Schaffhausen. The section of the river from Schaffhausen to Stein am Rhein is considered to be one of the loveliest river trips in Europe.
The historic centre of the town
On a wander through the streets of this car-free old town, you will feel as if you've been taken back in time. In the town you will see pretty town houses, from the Gothic and Baroque periods and 170 gables, which used to be considered true status symbols for rich citizens.
Munot Fortress
Schaffhausen's most famous attraction looms over the town from its site on the hill, among vine-yards. It was built in the 16th century, possibly based on a concept by Albrecht Dürer.
Today, this magnificent fortress is a well-visited sight to visit and venue for children's parties, danc-es, open-air cinema and concerts.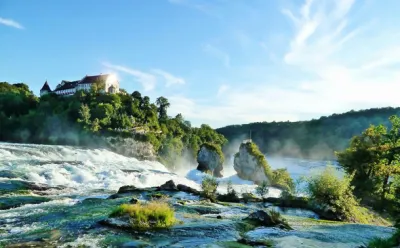 The Rhine Falls
The illuminated falls in the event are an absolute must on your tour! The huge masses of water thunder over the rocks, whisking you off into another world. Forget everything around you and simply be fascinated by this spectacle. On public guided tours you can find out lots of interesting facts about the Rhine Falls.